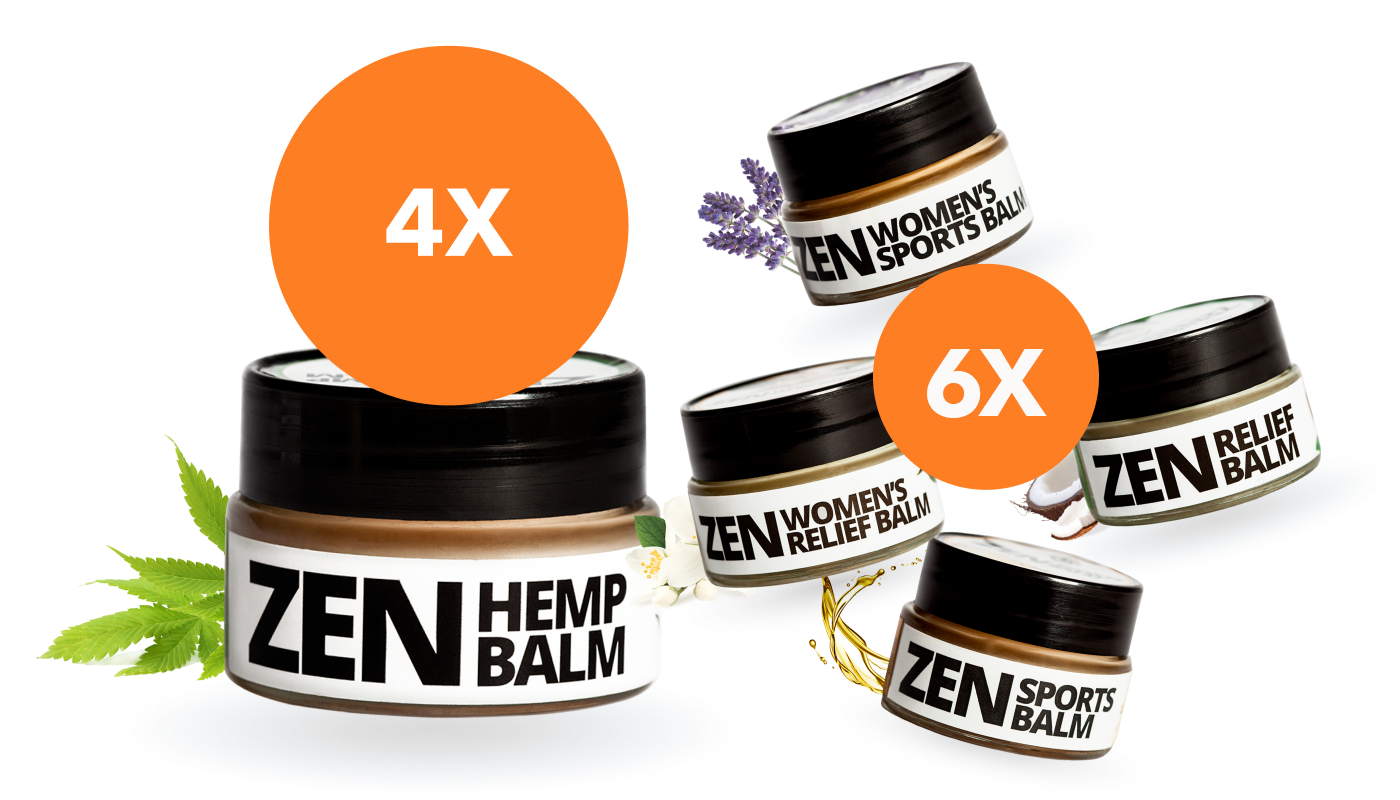 The "ZEN Zone" Package
SKU 03337
Product Details
Living a ZEN lifestyle has never been easier with the "It's All ZEN" package. Looking for the ultimate pain-relief coupled with restoring relaxation benefits? Try our newest line and enjoy the advantages of our power-packed relief balm infused with non-psycho active hemp oil that will leave you ready to power through your next big moment.

Includes:
4 Hemp Balms
6 Sports or Relief Balms of your choice
Free shipping
Plus Free Travel Size Balms!
Powerfully infused with hemp oil, an excellent anti-inflammatory agent with antioxidant and omega 3 properties that work to relax muscles, ZEN Hemp Balm is great for arthritis sufferers as it soothes a variety of joint and muscle pains.
Created to relieve aches and pains associated with muscle and joint discomforts, ZEN Relief Balm infused with coconut oil is ideal for individuals suffering from arthritis, backaches, strains, sprains, and bruises. It helps eliminate stiffness in the joints and reduces inflammation in the body.
With a powerful Jasmine oil formula, ZEN Women's Relief Balm is used to relieve aches and pains in the muscles and joints. Specially designed to meet the needs of women, this balm offers amazing relief from lower back pain, headaches, and can even lessen the effects of menstrual cramps.
Crafted with only the best ingredients, ZEN Sports Balm contains the potent anti-inflammatory, Narayani oil, which adds extra strength properties to this power-packed formulation as it works to soothe discomforts. It is ideal for relief from sports-related injuries, muscle cramps, and post-workout muscle fatigue.
Specially designed for women on the go of all activity levels, ZEN Women's Sports Balm infused with Lavender oil, anti-inflammatory agent, soothes backaches and muscle cramps quickly and naturally.
Save this product for later